Since we are a company that thrives on recommendations and positive reviews, we encourage our clients to provide testimonials whenever possible. Our reputation means everything to us and we take our reviews very seriously. We take great satisfaction in knowing that we are highly regarded within our community. Take a minute to read over some of our testimonials right here on the website, or search our name on Google and read our reviews there as well. The best compliment our clients can give us is their referral.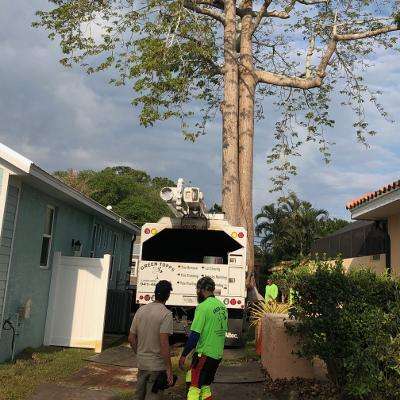 Review Us!
Please take the time to review us on social media. It helps GreenTopps Landscaping and Tree Service become recognized for all our hard work that we have performed for you. We really do appreciate it in advance.
Note you do need to be logged into each individual service to leave feedback
All Reviews were taken from Home Advisor
To see a full list of reviews, please click HERE
Susan L in White Plains
Trim or Remove Trees and Shrubs
Rachel was very helpful and worked with me quickly to get a violated corrected and details sent to the inspector.
Nelson D in North Port
Trim or Remove Trees and Shrubs
I am a retired business owner with high expectations for quality work that is being performed by others.
I received three different tree service estimates. I went with Greentopps Landscaping and Tree Removal not only because of the price, but also how very impressed I was by their customer service. From the beginning, my entire experience was outstanding; starting with someone answering my phone calls promptly, scheduling the appointments, getting the estimate, and work was performed exactly as planned.
I highly recommend Greentopps Landscaping and Tree Removal.
Jo H in Nokomis
Maintain a Yard or Garden
Kudos to Justin & crew for doing such a good job on our yard today!
Christine D in Lubbock
Landscape a Front Yard
We are brand new to the Venice area and purchased a home that looked like a jungle from the overgrown landscaping, to include a huge, overgrown live oak right in the front of the property. After meeting with multiple landscape companies to receive estimates to have the live oak trimmed back, tear out of the existing landscape and start anew, we chose GreenTopps. Steve created a beautiful design of new palms and plants for the 3 existing beds that not only accented our home, but gave us beautiful street appeal. Steve's 5-man crew showed up on time for the 4-day project and we were impressed to find out that each member specialized in certain areas of the project. The crew worked hard and diligently until 5 pm each day and the job site was left meticulously clean. The tear out of the existing landscape went smoothly and they did an awesome job removing and grinding down the existing stumps from the various overgrown trees and removing all the crazy root systems that went everywhere. The huge, live oak looks spectacular and is now the talk of the Venice Golf & Country Club as the most beautiful tree in the neighborhood. The crew member didn't just hack off the branches and be done with it, as we witnessed soon thereafter. He shaped the tree and it is stunning! After seeing the beautiful work on our tree, our neighbor had recently used a large known landscape company to trim his live oak and called them back to fix their job. All they did was cut off another large limb, which fell on our brand new triple palm and broke it. Of course our neighbor's landscaping company didn't care and accepted no liability for the damages, but our neighbor has graciously offered to replace our palm. GreenTopps brought in dirt and layered my beds and used our existing large rocks to accent them. The plants and palms that were brought in were all of good quality. GreenTopps also worked alongside our existing irrigation contractor to ensure that the irrigation was set up correctly. Our irrigation contractor was so impressed with their work that he took a stack of their business cards for referrals. In one week, we have had numerous compliments on our yard and have had two people give GreenTopps a call for future work - to include our neighbor! Then, even after the great experience we had, the actual invoice was less than the estimate! I can't recommend this company enough - integrity, honest, reliable, talented, great work ethic, and reasonable!!!
Jeff G in Venice Fl
Remove Trees
Lynn F in North Port
Trim Trees
The workers were very professional and know exactly what they're doing. The tree looks beautiful after the trimming I wasn't sure what to expect. But they did an awesome job.
Shirley I in Nokomis
Trim Trees
He's done work for us in the past
Jerry E in North Port
Remove Trees
they came out the same day that I summited my request fir an estimate. a week later the tree was down abd tge wood stacked as requested.

Marlies T in North Port
Remove Trees
Prompt response and immediately sent crew to remove and haul away dangerously leaning tree after hurricane Irma. This was truly impressive in view of how busy they must have been after the storm. Highly recommend this company and will hire them again when the need arises.