Since we are a company that thrives on recommendations and positive reviews, we encourage our clients to provide testimonials whenever possible. Our reputation means everything to us and we take our reviews very seriously. We take great satisfaction in knowing that we are highly regarded within our community. Take a minute to read over some of our testimonials right here on the website, or search our name on Google and read our reviews there as well. The best compliment our clients can give us is their referral.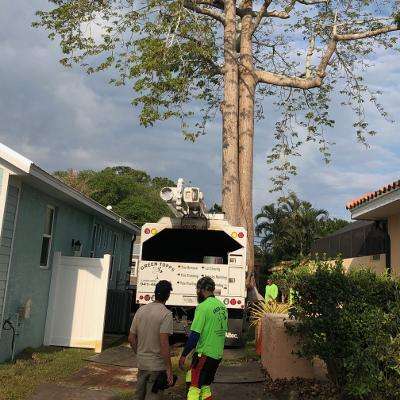 Review Us!
Please take the time to review us on social media. It helps GreenTopps Landscaping and Tree Service become recognized for all our hard work that we have performed for you. We really do appreciate it in advance.
Note you do need to be logged into each individual service to leave feedback
All Reviews were taken from Home Advisor
To see a full list of reviews, please click HERE
Diane H in Venice
Trim Trees
We received a quick estimate, the day after our inquiry. Their estimate was very fair, and in fact included more work than we had originally planned, They did the work the very next day. It was exactly as had requested and beautifully done.
I would recommend this company to anyone needing tree service.
Michael A in Venice
Trim Trees
Steve and his team were very professional and also gave me advise on how to properly care for my trees and shrubs.
Ann B in North Port
Trim Trees
They were right on time and did an excellent job; will use them again.
Carolyn O in Venice
Trim Trees
Hired to trim tall palm trees. Confirmed by phone. Wanted work to be to our specifications. Cleaned up. Would hire again.
John D in North Port
Remove Trees
Fast service and fair pricing! Very pleased!!
William C in Venice
Trim Trees
Steve and his crew did a super job on replacing old tired landscaping,with sod ,and expect the, to,do a good job of maintaining the property.
Mark W in Port Charlotte
Remove Trees
Steve and his crew removed a very large old tree that towered over two homes. They were professional, polite and did a great job both removing the tree and cleaning up afterward. We would highly recommend them and will definitely call them again ourselves.
Timothy V in Punta Gorda
Trim or Remove Trees and Shrubs
Steve and his crew did an excellent job of removing a large Live Oak, grinding the stump and planting a new Foxtail Palm and Pygmy Date Palm. The whole job took about 4 hours. I would highly recommend these guys.
Arthur V in Venice
Trim or Remove Trees and Shrubs
Steve and his crew did an excellent job trimming and removing trees. I had a major trimming project for him. They came early and got right to work. Everything in the original plan was taken care of. As the day went on there were other assorted tasks I needed done. They took care of it all. When they trimmed something and I wanted it trimmed more or differently they just did it. No questions asked. They cleaned up everything. He did more than we originally agreed upon. I think I got a real bang for the buck. Next time I need trees trimmed you know who I'm calling.And I suggest you check him out for your project.